The Regulations – "All prams and pushchair's, both new and used, must comply with British Standard 7409:1996 or BS EN 1888:2003 (an equivalent European standard). Prams and pushchair's are defined as, any wheeled vehicle designed for the transport of one or more infants either seated or reclined". These requirements are found in the Wheeled Child Conveyances (Safety) Regulations 1997.
Copies?
There are some Bicycle Trailers that look similar to the model shown on these pages. Please look carefully, as some far east Bicycle Trailer manufacturers claim to have had their products tested and even supply the test marks on their products. In our search for a supplier we came across several manufacturers that could not produce evidence of a certificate, nor were they registered with TUV! The supplier of this bike trailer is the original manufacturer. They provided us with a genuine safety test certificate which we verified with the testing organisation, TUV. Therefore you can be assured that you have a genuine, fully tested product.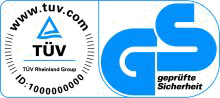 Our Bicycle Trailer complies with the current regulations has been tested to a European standard and carries a genuine TUV GS mark. It has been tested to EN 1888:2003, details of which can be seen below.
| Item | Detail |
| --- | --- |
| Standard | BS EN 1888:2003 |
| Title Identifier | Child care articles. Wheeled child conveyances. Safety requirements and test methods |
| Status | CU |
| Publication Date | 05/03/03 |
| Committee | CW/39 |
| Notes | |
| ISBN | 0 580 41369 1 |
| Pages | 48 |
| International Equivalent | EN 1888:2003 |
| Descriptors | Perambulators, Pushchair's, Baby equipment, Children, Safety devices, Wheels, Performance, Performance testing |
| Cross references | EN 71-1:1998, EN 71-2:1993, EN 71-3:1994, EN ISO/IEC 17025:2000, ISO/IEC 17025:1999, ECE Regulation 44 |
| Replaces | BS 7409:1996 |
| Replaces Notes | Replaces BS 7409:1996 which remains current because it is called up in the Wheeled Child Conveyances (Safety) Regulations 1997. |
The Bicycle Trailer is manufactured under the ISO 9001/2000 quality standard. Each one is checked & assembled before dispatch.