Bicycle Trailer Specifications: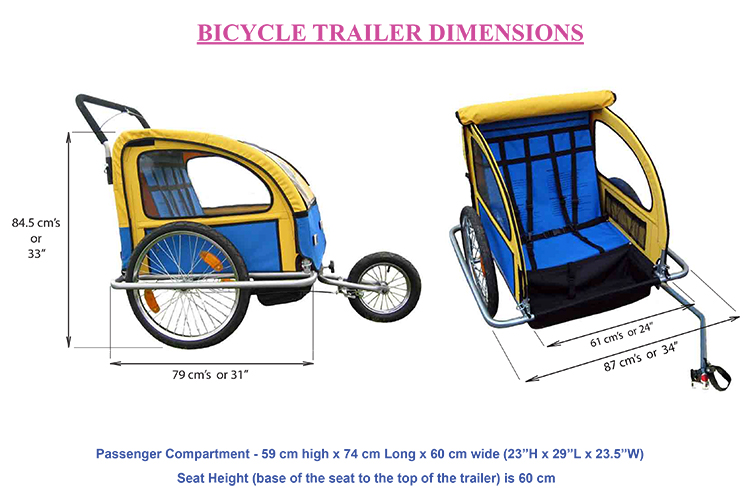 Accommodates up to 2 children.
Colour – Bright yellow & blue (see pictures).
Age – The manufacturer states the age range is 'From approx' 18 months to 4 + years depending on height and weight'.
(We assume the manufacturer is covering themselves for all eventualities with the younger age range. The important issue, is that they are able to sit up comfortably and can hold their heads up unaided. Cushions can be used to help, should they fall asleep).
The seat height (base of the seat to the top of the trailer) is 60cm.
Wheels – 20" pneumatic wheels – Quick release.
Foldable dual-function trailer (As a trailer or jogger)
Full steel framework and side protection.
Quick release couplings
Easily assembled in minutes.
TUV/GS approved – Verified.
Steel rims, hub & spokes
Reinforced seat. Built in foot well for comfort.
Two bike connectors (one main, and one secondary safety coupling). Fit's just about any bike.
Quickly and easily coupled & un-coupled for swapping from bike to bike.
Reflectors on each wheel (and to the front and rear canopy).
High visibility flag
Heavy duty 600D polyester fabric (This is the denier or density of the fabric).
Storage pockets.
Covered rear boot.
Fly/dust screen.
Load capacity 45 kg's (two children).
Clear weather screen.
Inbuilt five point safety harnesses.
Passenger compartment dimensions – 59H x 74L x 60W cm (23"H x 29"L x 23.5"W).
Note: The difference in weight between the aluminium and steel model is only 1.5 kg's. In this case, the weight saving does not warrant the additional cost for an aluminium frame.
Carton Size:
Largest single Item:
Weight:
83 x 68 x 23 cm's
32½ x 26¾ x 9" Inches
80 x 67 x 12.5 cm's
31½ x 26½ x 5" Inches
16.0 kg's
(L x W x H)
(L x W x H)
Bicycle Jogger Specification: (as per the Bicycle Trailer plus)
12" Pneumatic front wheel – quick release.
Padded handle bar for comfort.
Braked front wheel (as on a bicycle).
Quick release couplings.
Easy assembly & disassembly.
Jogger components easily stores in the boot of trailer when not in use.
Safety line.